History Day for Afro Hair Equality!
Major UK Teaching Unions will back World Afro Day to end Afro hair discrimination in schools, including the ASCL, NAHT, Voice the Union, NEU and NASUWT. 
 National President of NASUWT, Michelle Codrington-Rogers says: 
"No school, college or workplace should impose Eurocentric interpretations of professionalism on my ability based on my hair, base it on what I deliver in the classroom and the young people I interact with. And it's not just us teachers, our children should be judged on their ability, not which direction their hair grows."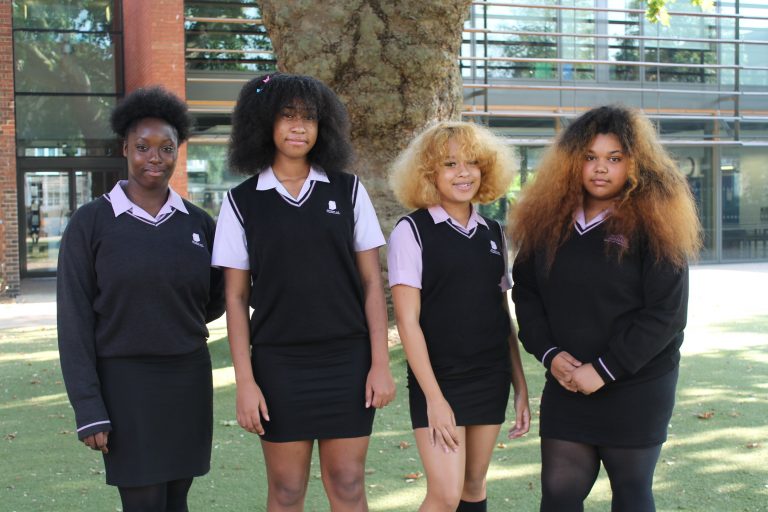 Afro hair is an essential equality issue for schools and the Unions have pledged to disseminate information from World Afro Day to their members. 
Founder Michelle De Leon says: "This is a major step forward by unions and we are glad that so many have responded positively and that they are taking this issue seriously. There is still a lot of work to be done with School Leadership, especially the Catholic Education service and the Church of England, who control thousands of schools and impact thousands of black children every day. Both did not respond to World Afro Day requests."
The Prime Minister, Boris Johnson said in his Black History Month speech, we should "examine where inequalities exist across our society and set out a positive agenda for change." For the past 100 years, there have been calls for Afro hair equality. From Marcus Garvey and Martin Luther King Jr to campaigners today. World Afro Day is setting an agenda for change because school years are crucial for identity and belonging. Research findings show 41% of children with Afro hair preferred/wanted to have straight Caucasian/Asian hair and more than 1 in 3 parents said school was the biggest influence on children wanting to change their Afro hair to straight. 
Assistant Headteacher, Andreanna Akinyemi says: "Rules that restrict afro hair in schools, or anywhere in society, cannot be justified. The impact of such rules on students with afro hair is damaging to their self-confidence, mental health and identity. Rules against afro hair would be seen as rules against having an African background. Schools are supposed to be environments where students feel safe, included and respected and if rules that restrict afro hair are in place, students will feel isolated, not valued and not part of the school community."
World Afro Day next steps are: 
New website section aimed at teachers, published October 16th
New ground-breaking research 
Cross party, political support to end Afro hair discrimination 
https://twitter.com/worldafroday
https://www.instagram.com/worldafroday/
Notes
Research is from Hair Equality Report
Clapton Girls Academy, London – photograph and Assistant Headteacher, Andreanna Akinyemi
For more information, images, interviews, etc contact Christina Moore PR:
World Afro Day at United Nations
WORLD AFRO DAY® 2018 CAMPAIGN WITH OGILVY
CHANGE THE FACTS NOT THE FRO
#WORLDAFRODAY #CHANGETHEFACT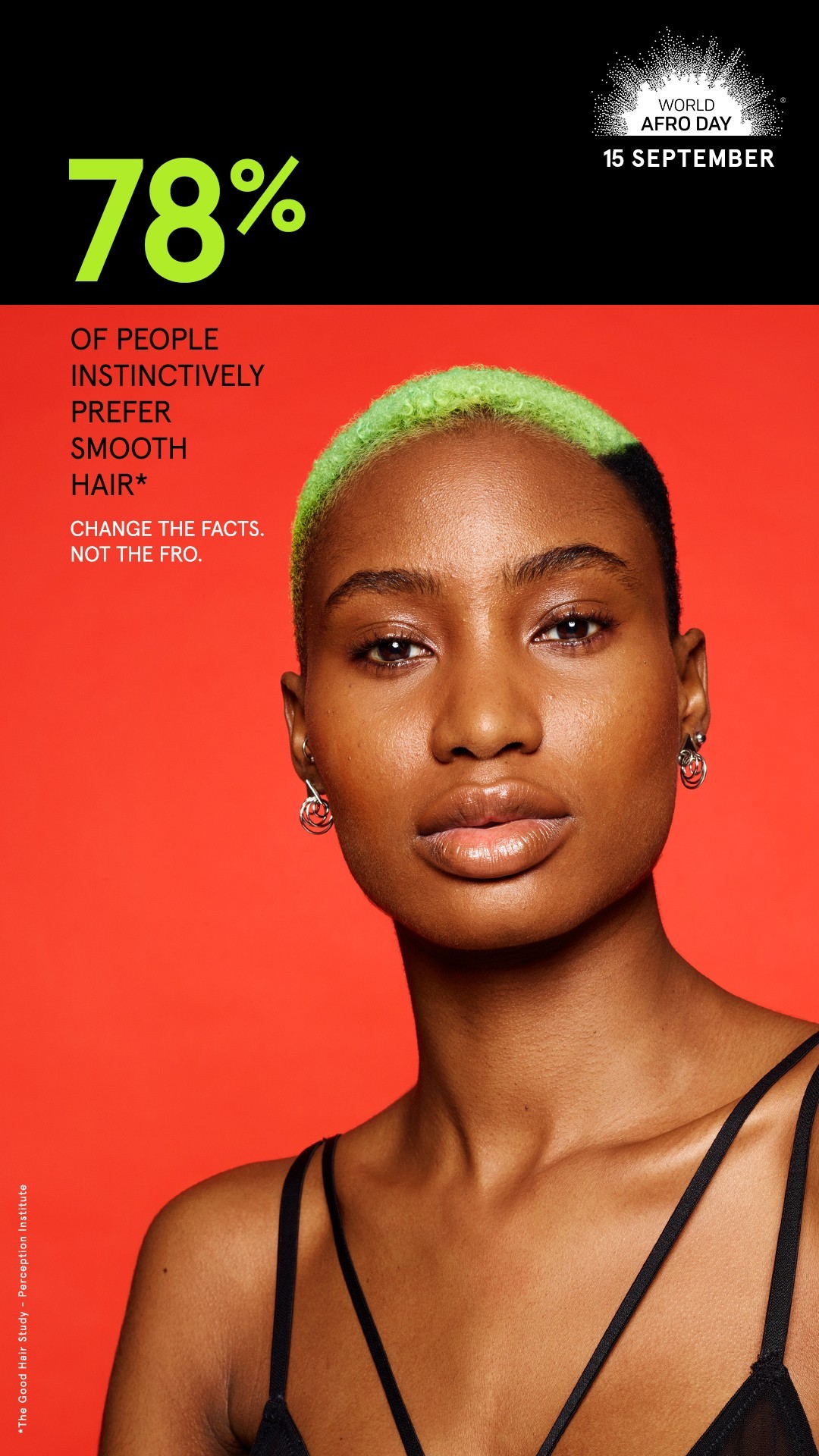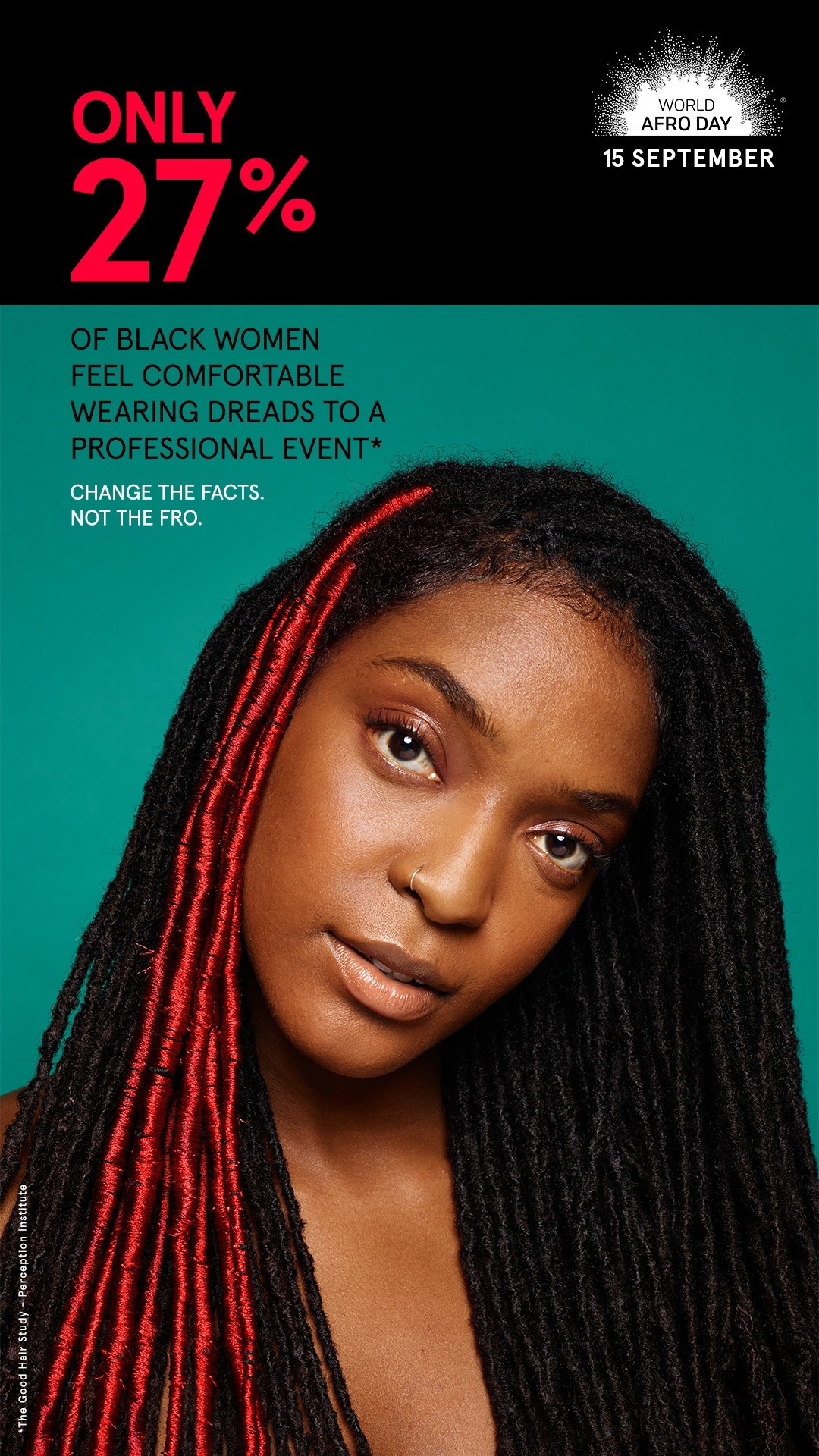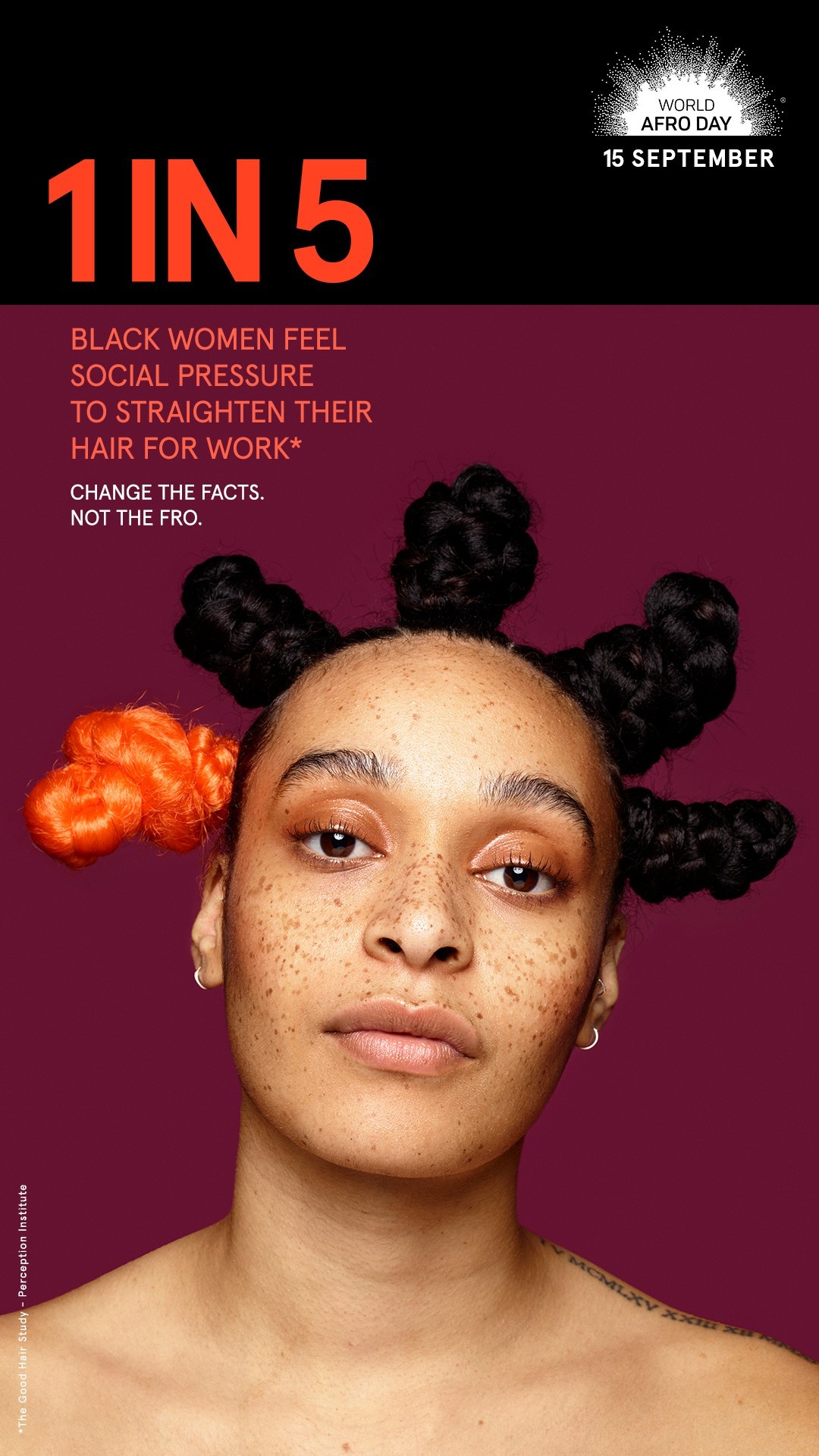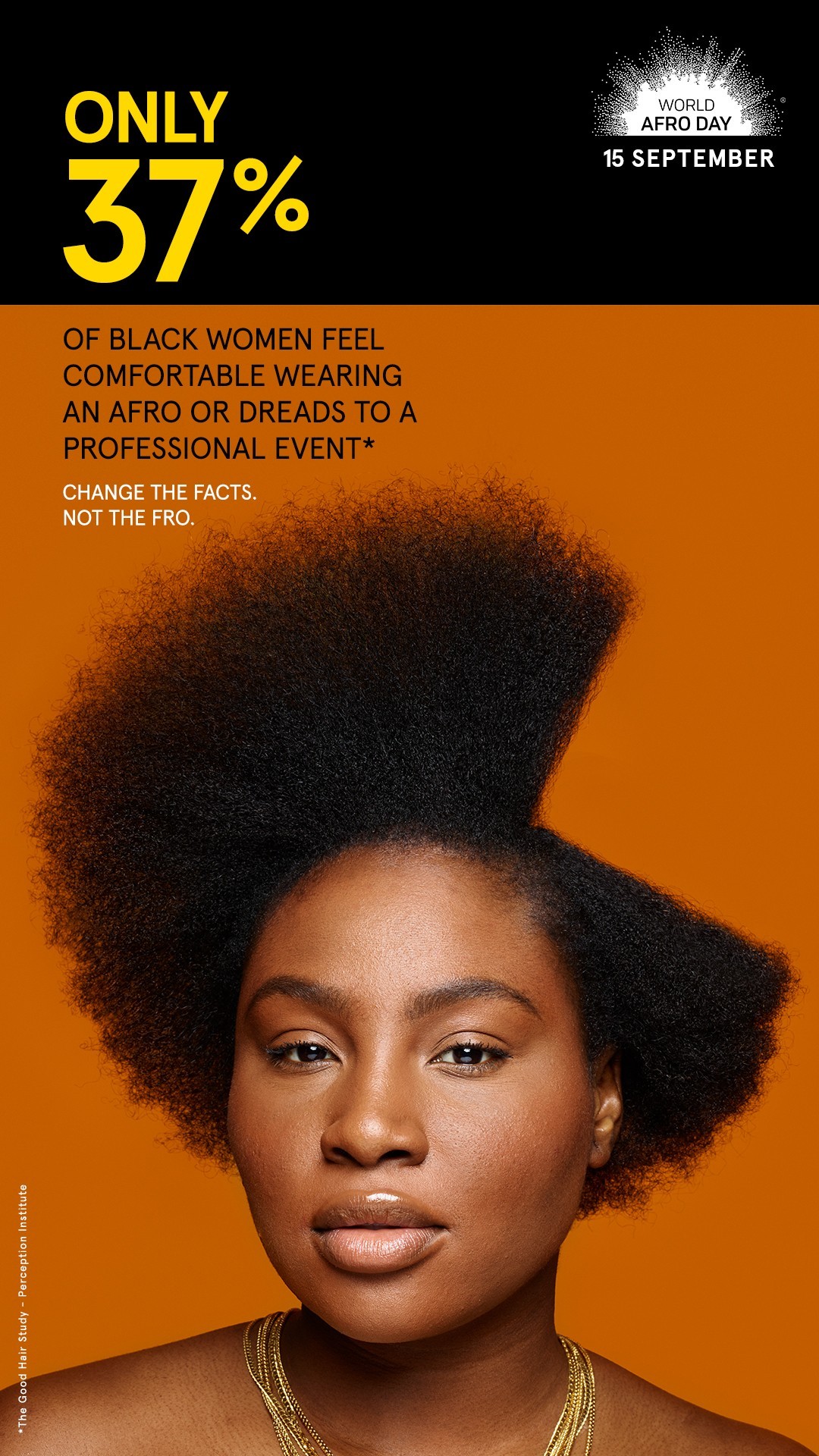 HAIR BIAS IS RARELY DISCUSSED, BUT IT REMAINS A PERSISTENT GLOBAL PROBLEM WHICH AFFECTS MILLIONS.
This year alone, families have had to take legal action both in the UK and overseas for the right to have their children attend school with their natural Afro hair. Whether it be the refusal to overturn an American state ban on dreadlocks or the damaging implications of schoolgirls being forced to straighten their hair in South Africa, discrimination based on hair has serious implications for many people's job prospects, education and wellbeing.
Ogilvy, Wavemaker and World Afro Day pioneer a new awareness campaign 'Change the Facts, Not the Fro'. Focusing this year on tackling how society perceives women's Afro hair and highlighting the importance of celebrating it in its natural glory, this campaign aims to challenge the status quo so this generation and the ones to come feel they have the choice to wear their hair in whatever way, shape or form. The rallying cry is featured on a series of images that use women's Afro hair to illustrate startling statistics taken from The Good Hair study, and in doing so calls for change and for choice.
The styles on the models came together courtesy of the award-winning hair stylist and industry expert Charlotte Mensah, who has featured in multiple press outlets and is well-known in London beauty circles for her work. The campaign consists of DOOH, social, PR and online. Audiences can follow the campaign on the hashtags #WorldAfroDay and #Changethefacts.
CREDITS
World Afro Day CLIENT: World Afro Day
ADVERTISING AGENCY: Ogilvy & Mather
PHOTOGRAPHER: Derek Kakembo
HEAD OF DESIGN: Dani Matthews
PRODUCTION DIRECTOR : Jodie Sibson
PRODUCER: Joshua Parsons
PRODUCTION COMPANY: Rankin Photography
BTS: Yolanda Boti, Fei Waller, Lucie Davies
HAIR: Charlotte Mansa
MAKEUP: Marco Antonio
STYLIST: PC Williams
STYLIST ASSISTANT: Sharif Rose
MANICURIST: Ami Streets
MODELS: Ayesha Marr, Olakemi Obi, Dee Ajayi, Kimihia Toussain